Cell Culture
iN-fect™ in vitro Transfection Reagent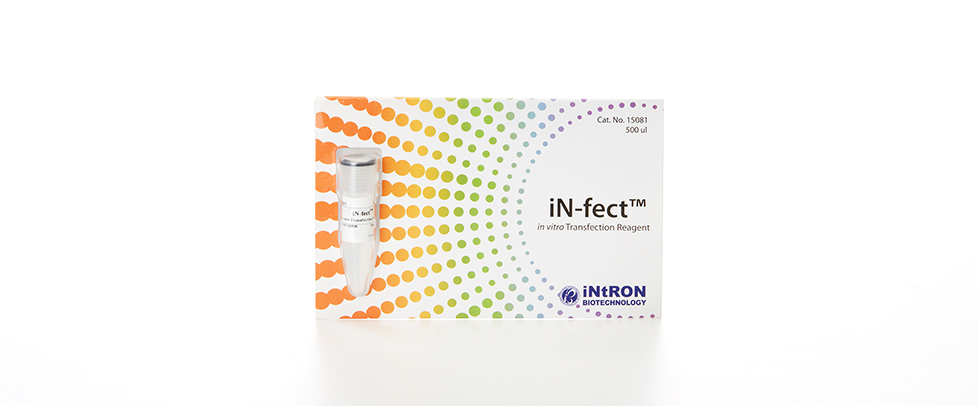 PRODUCT INFORMATION
Description
iN-fect™

in vitro

Transfection Reagent capable of strong DNA-binding affinity and high transfection efficiency
• Polymer-based transfection reagent
• DNA and RNA transfection in eukaryotic cells
• Transfection to various kinds of cell lines
• High transfection efficiency and low cell toxicity
• Easy to use and store
• Can be applied directly to the medium used for culture
iN-fect™
in vitro
Transfection Reagent is a polymer-based transfection reagent that is easy to use and store. The product allows DNA and RNA transfection in eukaryotic cells and is applicable to a wide variety of cell lines. Most of all, there is little cytotoxicity, so it is stable to cells and there is no need to change the medium. In addition, it can be used directly in the medium regardless of the presence or absence of serum in the transfection. iN-fect™ in vitro Transfection Reagent offers excellent transfection efficiency with strong DNA-binding affinity, enabling stable and reproducible experiments.
Applications
01

Plasmid DNA transfection

02

RNAi or siRNA transfection

03

Cell line establishment
Kit Contents
| Content | Volumes |
| --- | --- |
| iN-fect™ in vitro Transfection Reagent | 500 μl × 1 vial |
| Manual | 1 ea |
Technical Data

Fig 1. The result of iN-fect™ in vitro Transfection Reagent compared with other brands.
Fig 2. Example shows exceptional efficiency of iN-fect™ in vitro Transfection Reagent on 293T cells.

Table 1. Number of cells to seed before the day of transfection and transfection mix preparation for different cell culture formats.

Table 2. A guideline for seeding suspension cells prior to transfection in different culture formats recommended.

Table 3. Cell lines transfected with iN-fect™ in vitro Transfection Reagent
​
TroubleShooting Guide
Q

Are cell confluency (%) and passage number important?

A

It is important to keep in mind that transfection affects the outcome depending on the state of the cell. Usually, the best results are obtained when cell density is above 90%, while toxicity is shown at low density. The cell's passage number is also important. Excess passage number reduces transfection performance, so please unpack the cell stock and grow a new cell at this time.
Q

What is the amount of iN-fectTM in vitro Transfection Reagent required for transfection of cells?

A

If you look at the manual of this product, you can find the recommended amount for each culture vessel in general. Please refer to this and use it for the experiment.
Q

How much should Incubation time be?

A

Generally, it depends on the type of cell, the medium used, the confluency of the cells and the type of protein that you want to express. For this reason, it is an important factor for the success of transfection to know the appropriate conditions in advance depending on the cell line and protein used.
Q

How should the iN-fectTM in vitro Transfection reagent be stored for safety?

A

iN-fectTM in vitro Transfection Reagent shows the highest efficiency when stored at 4°C. If it is frozen or let stand at room temperature for a long time, the activity decreases so the overall transfection efficiency is lowered.
Q

Is DNA quality used for transfection important?

A

The quality of the DNA used is a very important factor in determining the success of the transfection. Usually the best A260 / A280 ratio of DNA is 1.8. We strongly recommend to use our DNA-midiTM GT Plasmid DNA Purification Kit to obtain the best purity and yield DNA.