Human MDx
LiliF® TSUTSU Nested PCR Kit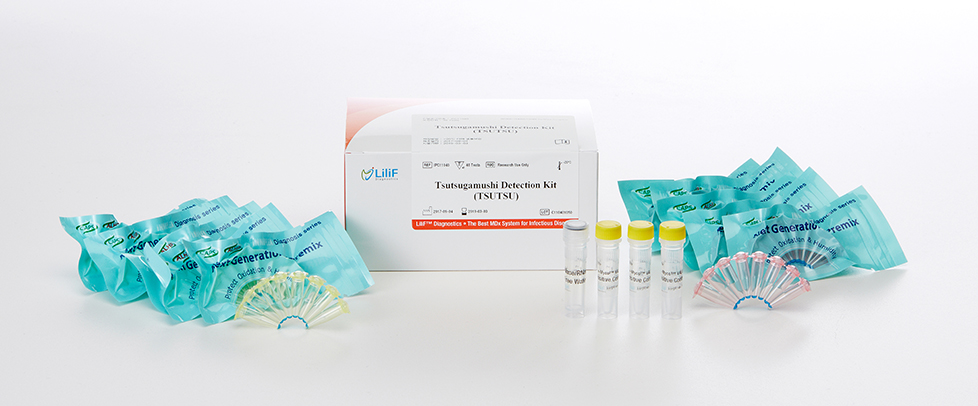 PRODUCT INFORMATION
Background Information
Scrub typhus is an acute febrile illness characterized by the occurrence of systemic vasculitis through blood and lymph when bitten by a larva of a mite infected by Orientia tsutsugamushi. Although the incidence is high in Asia, the number of overseas trips has increased, and recent cases have been reported in Western countries. The clinical course of tsutsugamushi disease is usually mild and is well cured by antibiotics treatment. However, delayed diagnosis may result in pneumonia, acute renal failure, meningitis, encephalitis, upper gastrointestinal bleeding, multiple catheter dysfunction, This complication can lead to death in some patients. Therefore, proper treatment of Tsutsugamushi disease requires prompt and accurate diagnosis.

The causative agent of Tsutsugamushi disease is O. tsutsugamushi. This is an absolute intracellular parasitic bacterium that is stained with Giemsa and has a coccobacillus shape, usually 0.5-0.7 μm in diameter and 1.2-2.5 μm in length. Tsutsugamushi disease usually occurs in autumn, and it can be diagnosed clinically by characteristic features such as sloughing and rash as well as outdoors activity. However, sometimes it is not accompanied by rash or scar in patients with Tsutsugamushi disease. Therefore, In many cases, it is difficult to diagnose Tsutsugamushi disease alone, so it can be diagnosed by serological diagnosis method, gene detection.
Principle
• This product is a gene detection reagent that detects the nucleic acid extracted from specimens such as human blood, tissue, and skin by qualitative detection using Nested PCR method to detect the pathogen of Tsutsugamushi disease. It is a product that can be detected qualitatively quickly by adding DNase / RNase free water supplied in the product from the DNA extracted from the sample using gene extraction kit. This product is optimized for a general purpose PCR machine with 0.2 ml PCR tube thermal block. Based on the genetic database of Tsutsugamushi pathogen, reaction products are formed by pathogen specific primers. After the reaction, Using agarose gel, it confirms whether a band of target .
Intended Use
• This product is a gene detection reagent that detects qualitatively through PCR, polymerase chain reaction (PCR) to detect Tsutsugamushi pathogens against nucleic acids extracted from samples such as human blood, tissues and skin.
Kit Contents
| No. | contents | 48 tests/kit |
| --- | --- | --- |
| 1 | TsuTsu 1st Detection Premix | 48 tubes |
| 2 | TsuTsu 2nd Detection Premix | 48 tubes |
| 3 | TsuTsu Positive Control | 25 μl x 3 tubes |
| 4 | DNase/RNase Free Water | 1.9 ml x 1 tube |
Related Product
관련제품 Product,No,Capacity,Inquire list

| Product | Cat.No | Capacity | inquire |
| --- | --- | --- | --- |