Background Information
To assure a high level of food and feed safety, accurate animal species identification and the detection of adulterants are two of the greatest challenges facing food and feed products companies today. Therefore, the need for scientifically valid species identity methods is increasingly important. Although a number of traditional morphological, microscopic and chemical methods have commonly been used for species identity testing, technologies using DNA offer reliable alternative methods that can provide increased precision in differentiating closely related species, as well as identifying intentional and accidental adulterants and contaminants.

LiliF™ HALAL Real-time PCR Kit (Pork) is designed for use by food and feed producers, dairies, marketers of these products, as well as regulators and auditors of final food and feed quality and safety. It is also intended to be used to verify that ruminant feed and feed supplements are properly labeled and do not contain ruminant materials.
Principle
• The real-time PCR(polymerase chain reaction) DNA amplification technology exibits high sensitivity and specificity for direct detection of target gene. iNtRON developed a novel platform technique about primer design called CLP™ (complementary locking primer) technology which provided flexibility in Tm (melting temperature) of primer design for optimization of reaction condition, and maximizes PCR specificity and sensitivity through the control of non-specific priming.
• The assay is a real-time PCR (or qPCR) that discriminates cytochrome b gene in one reaction. The assay is composed of two principal steps: Extraction of total DNA from meat(or food) samples, The LiliF™ HALAL Real-time PCR Kit (Pork) is a qualitative Duplex real-time PCR test, for the detection of porcine specific gene and the Exogenous Internal Positive Control (IC) using specific primers and probes labeled with the fluorescent dyes. The target sequences are detected through the FAM and HEX (VIC) channel respectively. The primer and probe mixture provided exploits the so-called 5' Nuclease assay principle. During PCR amplification, forward and reverse primers hybridize to the target DNA. A probe is included in the same reaction mixture which consists of an oligonucleotide labeled with a 5'-reporter dye and a downstream 3'-quencher. During PCR amplification, the probe is cleaved and the reporter dye and quencher are separated. The resulting increase in fluorescence can be detected on a range of real-time PCR platforms. An internal control is used to monitor the extraction process and to detect PCR inhibition.
Intended Use
• The LiliF™ HALAL Real-time PCR Kit (Pork) is qualitative in vitro test for detection of Pork specific gene from all types of meat (or food) samples.
Kit Contents
| Number | Content | 48tests/kit |
| --- | --- | --- |
| 1 | Detection PreMix | 48 tubes |
| 2 | Positive Control | 25µl x 3 tubes |
| 3 | DNase/RNase Free Water | 1 ml x 1 tube |
Technical Information
• Sensitivity
100~0.001 Pork Samples within Beef DNA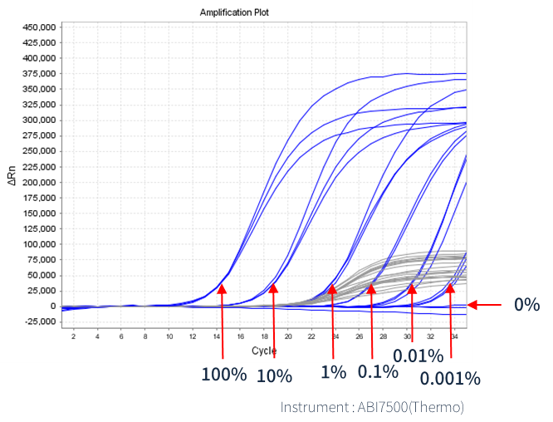 • LiliF™ HALAL Real-time PCR Kit (Pork) developed for testing HALAL food, has a high level of protein (e.g., chicken feed) target and detects 0.001% of nucleic acid
Specificity
| | | | |
| --- | --- | --- | --- |
| No. | Species | Sample type | Result |
| 1 | Pork | Ham | + |
| 2 | Pork | Sausage | + |
| 3 | Pork (gelatin) | Jelly | + |
| 4 | Pork (Lard) | Chocolate | + |
| 5 | Fish | Fish cake | - |
| 6 | Fish (gelatin) | Jelly | - |
| 7 | Beef | Sausage | - |
| 8 | Beef | Ham | - |
| 9 | Beef (gelatin) | Jelly | - |
| 10 | Chicken | Ham | - |
| 11 | Turkey | Ham | - |
• This product can be detected in very small samples of food (up to pg samples), and it is also inspected for cosmetics and pharmaceutical products using non-sequential ingredients (lard)