RNA
Patho Gene-spin™ DNA/RNA Extraction Kit
PRODUCT INFORMATION
Description
A product which extracts DNA/RNA easily and quickly from various pathogenic samples infected by virus or bacteria such as plasma, blood, serum, cell-free body fluids, cell and tissue etc.
• Used low concentration of chaotropic salt and better lysis efficiency
• Higher efficiency of lysis without additional additives
• Stable extraction of DNA/RNA from various pathogenic samples
• Be used safely with non-phenol method and no need for EtOH precipitation
• Suitable for sample extraction such as forensic medicine and diagnosis of diseases etc.
The Patho Gene-spin™ DNA/RNA Extraction Kit uses a low concentration of chaotropic salt and has a better lysis efficiency unlike conventional Total RNA Extraction products. Total DNA/RNA can be extracted from various pathogen samples like virus and bacteria, even anticoagulated plasma/blood, serum, cell-free body fluids and pathogenic cell/tissue etc. And it is easy to induce lysis without any additive like mercaptoethanol. In addition, DNA/RNA extraction is faster and more efficient by using columns that silica-gel membrane technology applied. The DNA/RNA isolated by the Patho Gene-spin™ Kit can be used for clinical diagnosis of people and animals infected with diseases caused by viruses and bacteria.
Applications
01

Pathogen detection

02

PCR or RT-PCR

03

Quantitative PCR (qPCR, qRT-PCR)

04

cDNA syntehesis

05

Infectious disease research etc.
Kit Contents
Contents
Description
Volumes
Lysis Buffer¹
35ml
Binding Buffer
35ml
Washing Buffer A
30ml
Washing Buffer B²
Add 40 ml of EtOH before use
10ml
Elution Buffer
20ml
Spin Columns
Inserted into a collection tubes.
(2.0 ml tubes)
50 columns
Instruction Manual
1 sheet
1. Lysis Buffer is composed high concentration of chaotropic salt. Carefully handle it.
2. Washing Buffer B is supplied as concentrates. Add 40 ml of ethanol (96~100 %) according to the bottle label before use.
Technical Data
Examples of amplification after extractions from various pathogenic samples

After diluting 1/10 of various pathogenic samples, total DNA / RNA was extracted with Patho Gene-spin™ DNA/RNA Extraction Kit. Sensitivity activity and amplification rates were checked using Maxime™ PCR PreMix Kit (i-StarTaq) or Maxime™ RT-PCR PreMix Kit.
Observation of amplification efficiency on various PCR/RT-PCR conditions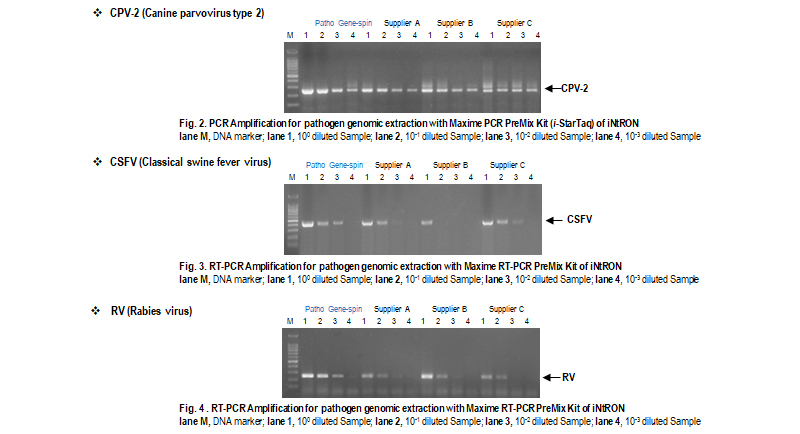 Total RNA was extracted from pathogenic samples using the Patho Gene-spin™ DNA/RNA Extraction Kit and competitors DNA/RNA extraction products. PCR / RT-PCR amplification with extracted samples shows that the Patho Gene-spin™ DNA/RNA Extraction Kit is suitable for stable amplification.
TroubleShooting Guide
Q

What is the yield of nucleic acid extraction from normal serum samples?

A

According to some literature reports, there are genome-derived substances from 500 to 1000 in serum or plasma samples derived from healthy individuals. In case of free-circulating DNA in plasma, it is known that it presents at the level of 1-100 ng/ml. This is a fairly large range, so it is practically impossible or insignificant to infer an average yield.
Q

Is it possible to extract viral nucleic acids from cell culture supernatant?

A

Yes, it can be used to extract viral nucleic acids from cell culture supernatant in case of following the protocol of this product.
Q

I want to know the yield of a small amount of DNA or RNA. Is there other way except for using A260 absorbance?

A

The Patho Gene-spin™ DNA/RNA Extraction Kit extracts whole nucleic acids present in a sample. This means that the product extracts not only nucleic acids from the pathogen in the sample but also nucleic acids from the host. Therefore, measuring the absorbance like A260 is not the preferred method. In addition, in the case of a small amount of nucleic acids less than 10 ng / μl, the range of error is large, so it is somewhat inaccurate to trust the measured value. In this case, it is preferable to perform Real-time PCR or Real-time RT-PCR or quantify fluorescent dyes binding to nucleic acids. Of course, since the detection of pathogens belongs to a qualitative study prior to quantification, it is more important to carry out fresh storage of the sample, rapid extraction and subsequent analysis, and it is not meaningful to measure the yield of extracted nucleic acids before use.
Q

Non-specific bands seem to be increased with the sensitivity of extraction. Is there a way to improve it?

A

Unlike serum and plasma samples, whole blood, buffy-coat and tissue emulsion contain large amounts of cells. The Patho Gene-spin™ DNA/RNA Extraction Kit maximizes the efficiency of nucleic acid extraction through effective dissolution of the sample. In result, overall yield is improved. In the case of samples with high cell contents, the amount of nucleic acids derived from the host is also large. Therefore, you can get clear amplification results if template usage is reduced to 1/10 level when non-specific amplification is observed during PCR analysis.